Beer Passport at the London Craft Beer Festival
About the Event
The London Craft Beer Festival is 'THE' beer festival celebrating the world of craft beer. A ticket provides you with a glass and unrestricted access to wander around the 'the listed timbers and curved brick vaults' of the London Tobacco Dock, giving you the freedom to taste from over one hundred world-class breweries!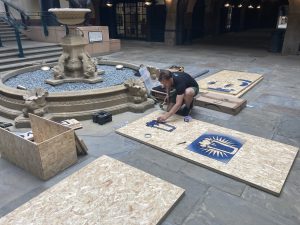 Building the Stand
As this was our first exhibition, we needed to build a stand that was both attractive and cost effective. Using our background in Events, we reckon we just about managed this…
The concept of the stand was focused around an adaptation of the game we all know and love – beer pong. We of course wanted to attract visitors to our stand because unlike most exhibitors we didn't have beer to give away. BUT… what do people love doing after they've had a few sips of beer – throwing a ping pong ball into a cup of course. So we adapted the game so that people had a chance to win a Beer Passport. This gave us an opportunity to show people the incredible value that can be found in owning a Beer Passport.
Constructing the stand entirely on our own, we constructed a few chipboard panels and branded them with some help from our good friends from the events industry. After that, we added a few shelves for the product and a table for the beer pong. Simple but effective. It looked great, even if we do say so ourselves.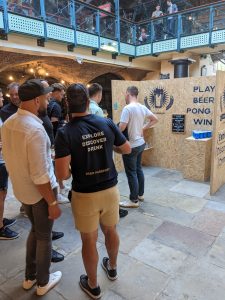 The Festival
As the doors opened we didn't really know what to expect. Two years prior we had both visited as punters, but this was our first time on the other side of the bar counter. Would people visit our stand? Would they be interested to learn about Beer Passport? Would people want to play beer pong?… Fortunately, the answers were all YES! We were delighted that people loved the concept of Beer Passport and wanted to try and win one.
A HUGE thank you to all of those people that came to visit us. And of course congratulations to those of you that got your hands on a Beer Passport. We hope to see them in use at the breweries over the coming months – don't forget to tag us on our social channels @beerpassportuk.
We had a great time at the festival. Not only was it incredibly rewarding for us to share Beer Passport with so many new customers, but we also met some amazing people within the industry. When we decided to create Beer Passport, one of the goals we set ourselves was to exhibit at the London Craft Beer Festival, that's a huge box ticked for us. We can't wait for the next one!
To have a peak at how much fun visitors to our stand had, why not visit our Instagram page!
Highlights of the festival:
Building the stand for the festival
Interacting with people interested in Beer Passport
Seeing people's reactions to winning!
Seeing queues of 30+ people waiting to play beer pong and find out about Beer Passport
Getting approached by major independent breweries to join Beer Passport 2022
Meeting the winner of our Instagram and Facebook London Craft Beer competition
Meeting the current front runner in the Beer Passport top brewery visitor – Adam Perry. Adam has hit over 50% of the breweries in the passport. Go Adam!
Interacting with our brewery partners, including Mondo Brewery, Partizan, Canopy Brewery, 40ft Brewery, By the Horns Brewers, Brew By Numbers (BBNO) and Anspach & Hobday
And finally, sampling some of the most mouthwatering beer London has to offer!
Remember there is still time to get your very own Beer Passport before the end of the summer! Click here to view our product options…