Beer Passport Taproom Trails
Trails designed for the modern explorer.
Indulging beer enthusiasts with utmost convenience, we have curated the ultimate Taproom Trails to enhance your brewery exploration. These meticulously designed trails showcase a cluster of taprooms situated in close proximity to one another. Embark on a captivating journey of discovery as you peruse the details of each trail, unveiling a treasure trove of information about the taprooms, captivating local activities, and the optimal transportation methods to navigate your way through the area.
Please note, Beer Passport does not recommend completing trails in one visit. Always know your limits, you can revisit the trails another time.
Blackhorse Road Taproom Trail
5 taprooms, 0.5 miles
Minimum effort, maximum reward. Our Blackhorse Road Taproom Trail is a must for any Beer Passport holder. Taproom trail highlights include 5 beautiful taprooms. Signature Brew – Blackhorse Road is a stunning brewery and venue. The glistening fermentation tanks are a welcoming site to any thirsty explorer. Enjoy their award-winning beers alongside the hoppy smells of the brewery. Pretty Decent Beer Co – Blackhorse Road is the newest taproom for PDBC. Enjoy the open-plan brewery and seating hall with 20 taps of fresh beer to choose from. Exale Brewing is a fantastic venue, carved out of an old furniture factory, you'll feel like you're in a different but beautifully hoppy world. Beerblefish Brewing Co. is a cask-focused venue with a rotating lineup. You can expect plenty of games to play alongside delicious beers. Hackney Brewery & Highhill Taproom is a US-inspired, 300-capacity taproom boasting 20 taps and a huge outdoor courtyard. Alongside the taprooms, the main drag of the Blackhorse Road area is filled with quirky restaurants and coffee shops, both are usually required, having just visited 5 taprooms.
The Route:
An easy route that can be done on foot. You can do this trail from South to North, starting at Signature Brew Blackhorse Road, or North to South, starting at Hackney Brewery. Our directions will take you from South to North. Whatever way you do it, you can't go wrong.
Arrive at Blackhorse Road station, which conveniently has access to both Underground (Victoria line) and Overground lines. From here, head North up Blackhorse Lane before taking a left down Hooker's Rd. Go through the gate onto Upland's Business Park and veer right. You'll find Signature Brew easily enough with it's towering fermentation tanks. Once you're done at Signature Brew, head East, and you'll find Pretty Decent Beer Co by its colourful entrance. After PDBC, continue in the direction you were going, follow the road around the bend and head straight towards Exale Brewery – another one that can't be missed as there's plenty of signage. After Exale, again head in the same direction as before and take a left at the end of the road, you'll find Beerblefish nestled just around the corner. From Beerbelfish, you'll need to head back toward Blackhorse Lane. To do this, when leaving Beerblefish make sure you exit to the right, following this road will lead you back onto Blackhorse Lane where you then need to take a left. Continue North on Blackhorse Lane until you find Lockwood Way and the Hackney Brewery & Highill Taproom.
North Bermondsey Taproom Trail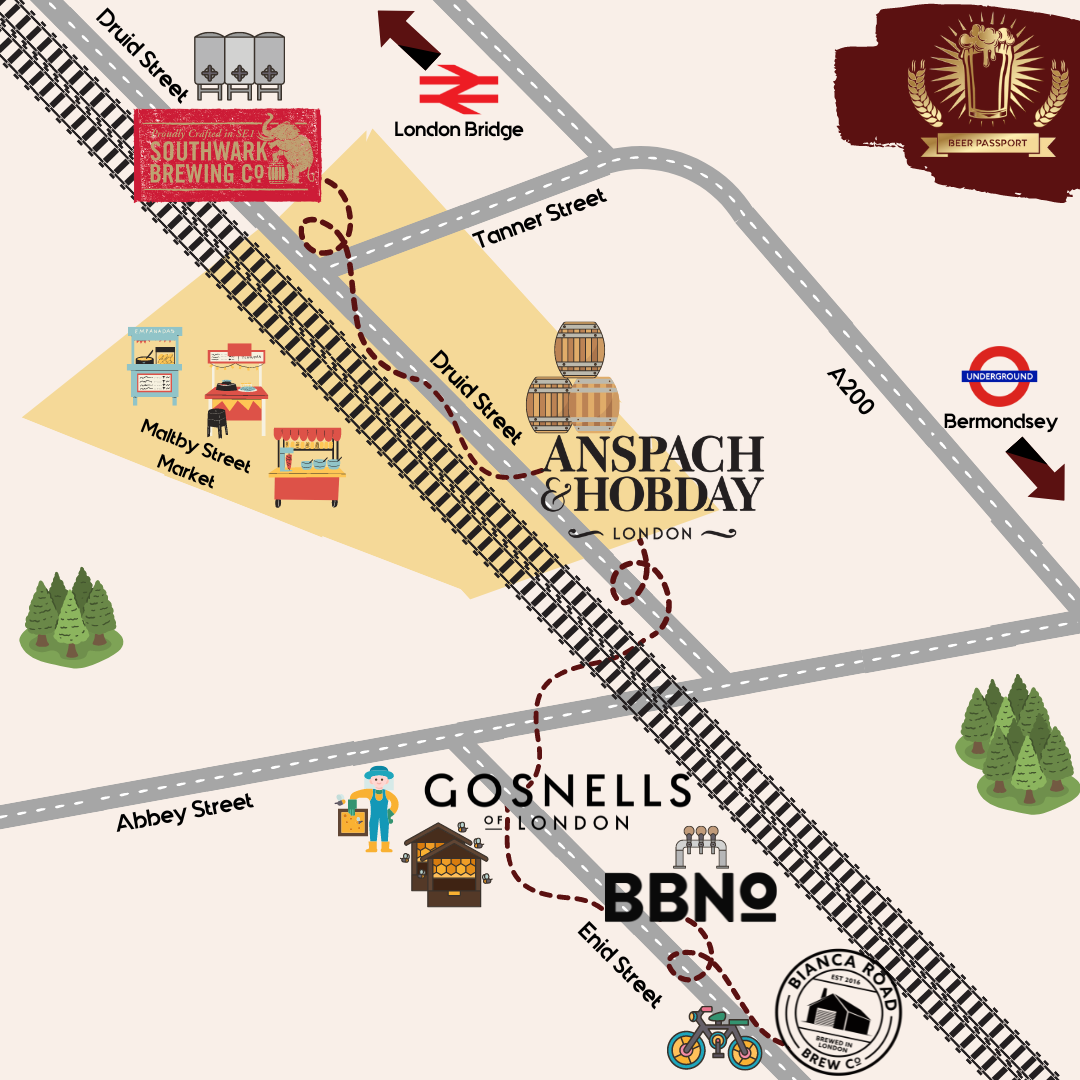 5 taprooms, 0.5 miles
Another trail overflowing with fantastic drinking options. We have 8 taprooms in total on the infamous Bermondsey Beer Mile. This trail highlights 5 within a short distance of each other at the North of the mile. Your highlights include Southwark Brewing Co. inviting people to try a plethora of beers across 14 taps. You're welcome to bring in food from the local Malty Street Market too. Anspach & Hobday: The Arch House is where you'll find a diverse range of beer. It's at The Arch House where they brew their mixed fermentation beers. Gosnells of London – Bermondsey is a brand new taproom where you'll find a modern twist on an ancient classic. They create all of their unique drinks using 100% natural honey. Brew By Numbers – Enid Street is a cosy taproom where you'll find 8 taps and an eclectic selection of the very best beers. Bianca Road Brew Co. was inspired by a US coast-to-coast cycling trip and you'll find plenty of US-inspired beers here too. You can sit indoors right next to the brewery or outdoors in the summer. Alongside these 5 wonderful taprooms, the local area has a lot going for it. There is no shortage of places to eat and drink (you're on the Bermondsey Beer Mile after all) but we highly recommend checking out Maltby Street Market.
The Route:
Another easy route to be done on foot. It's entirely up to you whether you tackle this trail from South to North, starting at Bianca Road Brew Co., or North to South, starting at Southwark Brewing Co. Our directions will take you from North to South, coming from London Bridge.
Arrive at London Bridge station and head South-East on Tooley Street until Druid Street (approx 6-minute walk), continue on Druid Street for about 4 minutes until you come across Southwark Brewing Co. on your right. Once you're done in Southwark, you need to continue South-East on Druid Street to find Anspach & Hobday: The Arch House. You can't miss it as there's usually a good crowd of people outside when open. After The Arch House, take a left and head under the bridge until you reach Abbey Street. Look to your left and you'll see another street running alongside the train tracks, this is Enid Street where you'll find the remaining 3 taprooms all conveniently within a short stumble from each other.
South Bermondsey Taproom Trail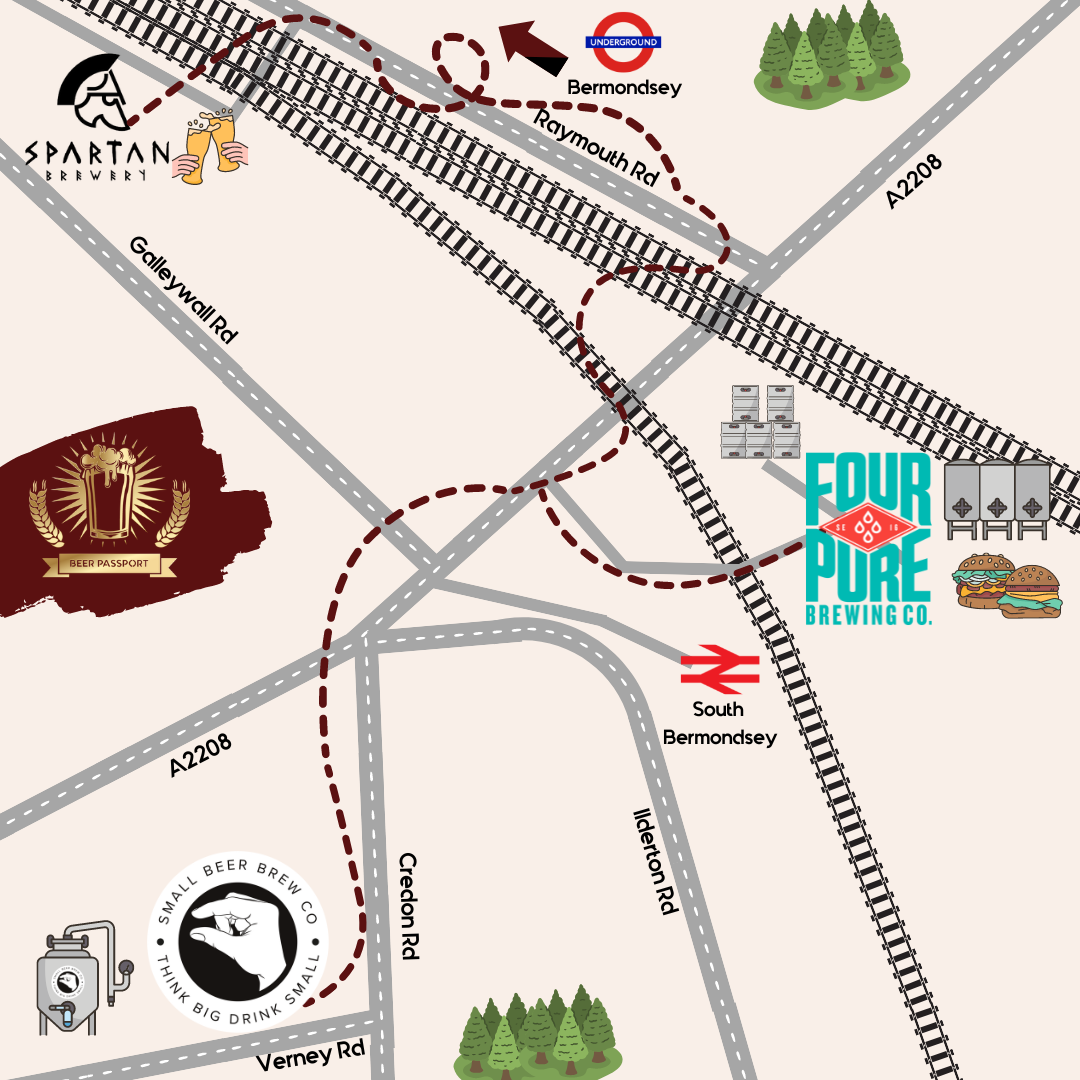 3 taprooms, 0.7 miles
Following on from our North Bermondsey Taproom Trail we have the South Bermondsey Taproom Trail. And we know what you're thinking, why not pair both trails together?! Nobody is stopping you, but we think 8 taprooms in one day is punchy stuff! A slightly longer amble and an eclectic mix of taprooms await those explorers who attempt this trail. And when we say eclectic, we mean it. Starting with Small Beer Brew Co, which is an absolute must-visit for passport holders, small beer is defined as being below 2.8% ABV. They are the world's first dedicated small beer brewery and their taproom is a fun and friendly place to drink brewery-fresh session beers without the bleary-eyed consequences. Different in nature and size, Fourpure Brewing Co. is one of the largest brewery taprooms in the passport. Their modern taproom offers the full Fourpure range (with beer styles for all tastes), a rotating street food menu, regular events, and quiz nights. Last but by no means least and in stark contrast to Fourpure, Spartan Brewery is one of the smallest brewery taprooms in the passport. Using locally sourced ingredients to recreate traditional styles with modern flavour profiles, Spartan Brewery is a popular stop for beer drinkers at the weekend.
The Route:
For this trail, assuming you're not local we recommend you arrive at South Bermondsey Station and start the trail at Small Beer Brew Co. It is possible to arrive at Bermondsey tube station, however, the walk is a little longer before hitting your first taproom.
Arriving at South Bermondsey, exit the station taking the path to the A2208 (Rotherhithe New Rd). Head South-West on the A2208 until you get to Credon Rd on the left. Head South on Credon Rd until you get to a mini roundabout and take a right down Verney Rd where you'll find Small Beer Brew Co and the trailhead on your left. Once you're done at Small Beer and ready to move on, retrace your steps back to the A2208 and continue North-East past the path back to the station. You'll go under a small bridge and approximately 150 meters or so on your right you'll find the Bermondsey Trading Estate. Head into the estate and follow the road around for a few minutes until you come across Fourpure Brewing Co., it's hard to miss. After Fourpure, head back out of the estate and turn right again onto the A2208. Continue North-East until you pass under the large railway bridge and reach Raymouth Rd on your left. A short walk down Raymotuh Rd, there's an archway tunnel that you need to go under (just past our old friends Partizan Brewing). Following this path around to the right you'll find Spartan Brewing and the end of your trail about 50 meters on the right.
Camden to Islington Taproom Trail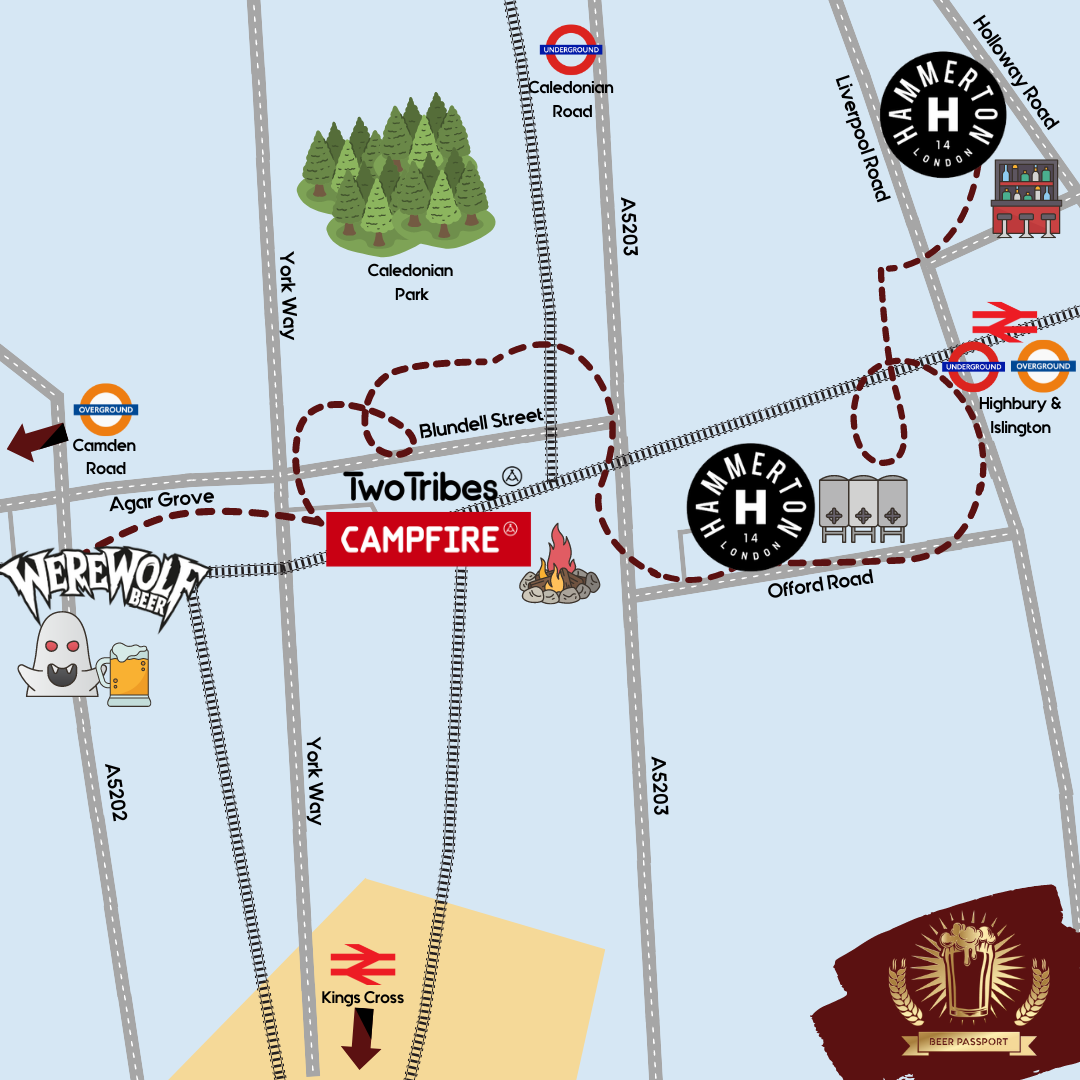 4 taprooms, 2 miles
Not for the faint-hearted, this trail is a daunting 2 miles featuring spooky beers, campfires, and a doubling down on one brewery. You're going to be traveling through 2 of London's most bustling suburbs on this trail, drinking fantastic beers with no shortage of food options. Starting in Camden, Werewolf Beer is an American brewery in London. Fans of the 1980s cult classic will understand the reference there. The founder, Rich White, has a wealth of experience in brewing and is creating some scarily good beer down at this taproom. The next highlight on this trail is Two Tribes Campfire, which was born out of collaboration, celebrating their twin passions of music and beer. If an open-fire pit with live-fire chefs serving up delicious food, accompanied by live music and great beer is your thing, this is the place for you. After that, you're heading to Hammerton Brewery where you'll find a beautiful taproom that looks into the brewery itself. Serving 20 taps of their flagship and experimental brew alongside the freshest hand-made pizzas. Following on from the taproom, you're heading to Hammerton Brewery's House of Hammerton. With much more of a pub vibe than your standard taproom, it's the ideal place to 'bed-in' for the rest of your day. You'll find 20 taps of their own beers, favourites from around the UK and the world, artisanal spirits, and wines. They also serve up delicious smash burgers! Needless to say, both Camden and Islington have thriving cultures with wonderful places to visit. In Camden Market and on Holloway Road you'll be spoilt for choice for food options.
The Route:
We recommend starting in Camden at Werewolf brewery and ending in Islington at Hammeton House. However, as the Overground runs between the 2 endpoints (Camden & Islington), there are many ways in which you can approach this route.
Starting at Camden Road Overground, exit the station crossing over Camden Road heading South-East and onto Royal College Street. Take the immediate left down Randolph Street and you'll find Werewolf Beer on the right just before the bridge. Once you've drank as many spooky beers as you can handle, head back out of the taproom, take a right and continue straight down Randolph Street. At the crossroads, continue straight down Agar Grove until you get to a large junction. From here, take a right and head down the hill (note if you're following Google Maps it will try and take you down Brandon Road, this is incorrect) and continue until you find Tileyard Road and the sign for Campfire. Head down Tileyard Road until you get to a bend in the road and you'll see a sign for Two Tribes Campfire on the left. Once you've had your share of fire and beer, head back out the way you came down Tileyard Road and back up the hill. This time you do want to turn right down Brandon Street, which shortly turns into Blundell Street. Continue on Blundell Street until you get to the A5203. Turn right and head South on the A5203 until you go under the bridge. Shortly after the bridge, you'll need to turn left down Offord Road. Follow Offord Road until you see a zebra crossing, directly after the crossing you want to take a left and head up the industrial estate where you'll find Hammerton Brewery on the right-hand side. Want more Hammerton beer?.. we've got you covered as it's time to see what Hammerton House has to offer. Get back onto Offord Road and continue East until you reach Liverpool Road where you need to take a left heading North. About 250 meters up, take the right onto Orleston Road, which will lead you to Holloway Road. Take a left onto Holloway Road and Hammerton House can be found approximately 100 meters down.
Brixton Taproom Trail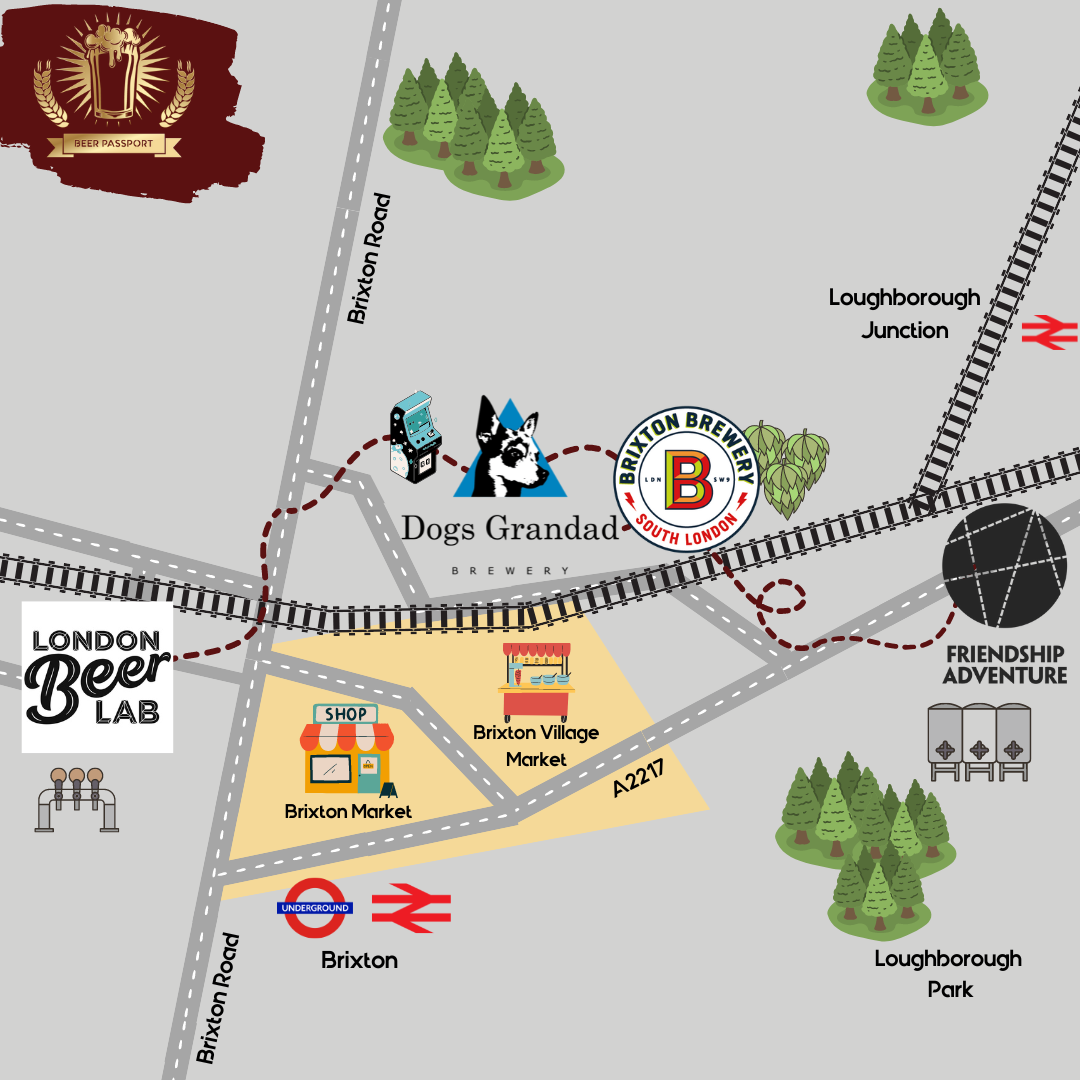 4 taprooms, 0.7 miles
Culture, culture & more culture. That's what you can expect on this trail, which packs in 4 mighty taprooms over a very short distance, all within close proximity to the vibrant markets of Brixton. Starting off with London Beer Lab where you're spoilt for choice. There are 30 lines available at the taproom, with their core range made up of hop-forward pales and IPAs. Next up, Dogs Grandad Brewery is a microbrewery with a passion for hoppy and hazy beers alongside their specialty Red and Black IPA. This quirky taproom also boasts a classic arcade machine to entertain you while you sink one more beer. A literal stone's throw down the road from DG is Brixton Brewery, which is a community-based business completely connected to the buzz and electricity of the local area. Expect fresh brews across 10 taps in this lovely archway taproom. Finally, you'll end your trail with a warm welcome at Friendship Adventure Brewery. The taproom is quaint and authentic, an ideal space to share a few beers with friends, surrounded by the fermenting tanks that make them. Food options are in no scarce supply. Head to Brixton Village Market and grab yourself something authentic and diverse.
The Route:
We recommend starting at London Beer Lab as it's the closest to Brixton station and make your way East finishing at Friendship Adventure. Of course, if you prefer a short jaunt back to the station after an afetrnoon on the beers, just do the trail in reverse, each to their own.
Arriving at Brixton Station, head North out of the station up Brixton Road but only as far as Dorrell Place. Cut through Dorrell Place onto Nursery Road and just to the left handside of the bridge you'll see another small street. Here you'll find the start iof your trail and London Beer Lab. Once you're done at LBL, head back the way you came to Brixton Road and take a left. Once you get under the bridge, you'll need to cross over the road and head down Brixton Station Road. Continue down this road for a few minutes and you'll reach Dog's Grandad and Brixton Brewery practically next door to each other. After you've taken on all that hoppy goodness from those two fine establishments, head out and take the first right down Gresham Road onto the A2217 where you want to turn left heading East. Continuing on the A2217, you'll find Friendship Adventure and the end of your trail under the bridge on the right.
Deptford & Greenwich Taproom Trail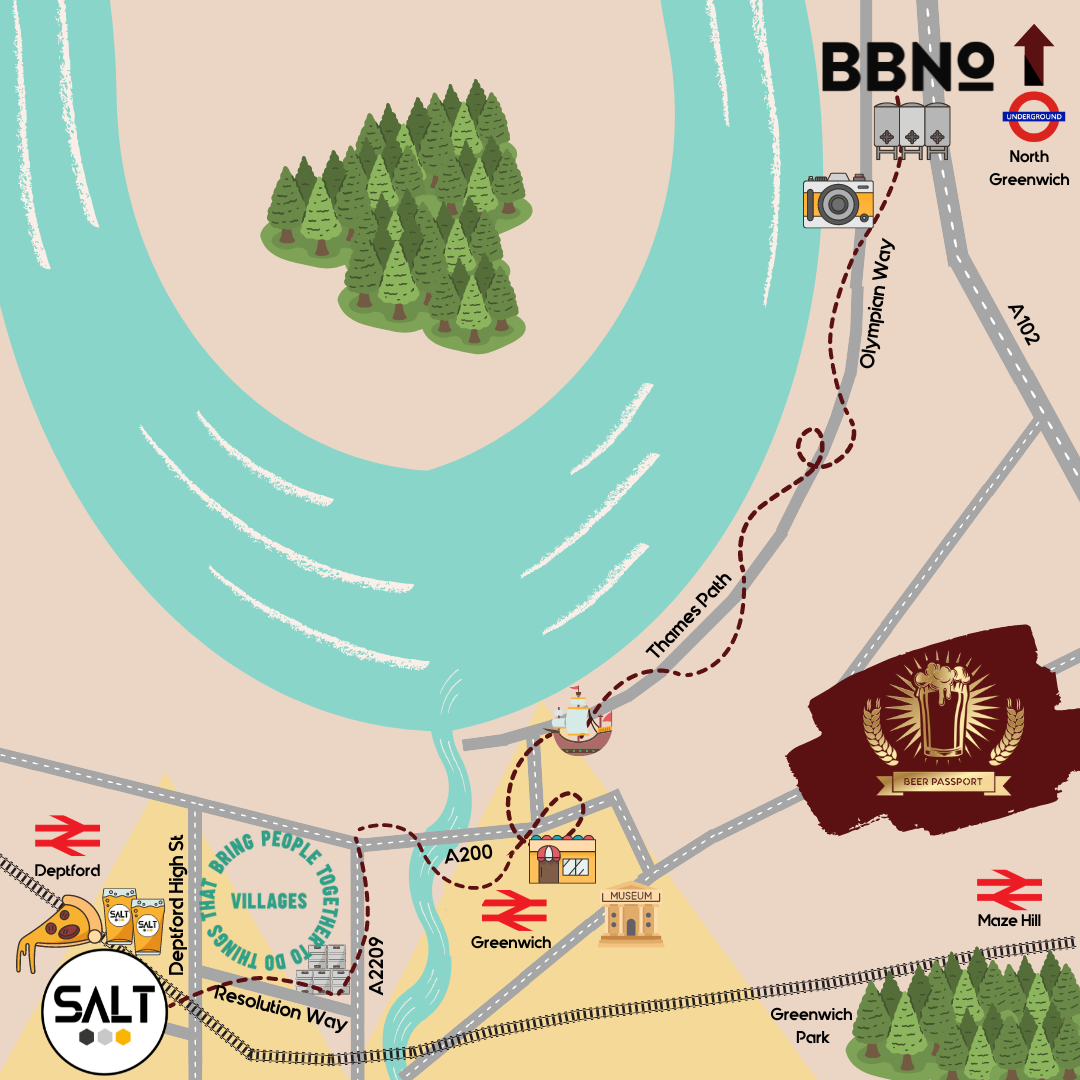 3 taprooms, 2.5 miles
Beautiful scenery meets beautiful beers. If you've not been to Deptford & Greenwich before you don't know what you're missing. On this taproom trail, you'll experience stunning views of the river Thames, explore the gorgeous villages of Deptford & Greenwich, as well as drink some mighty fine beers! Those who have already completed the Bermondsey Taproom Trail will be thrilled to see another Brew By Numbers venue on this trail. At Brew By Numbers – Morden Wharf you can expect to find tank fresh beers, regular food trucks, events, and incredible views across the Thames. After BBNO we recommend a lovely Thameside walk where you can enjoy the views over the river and build up an appetite for what's coming up. You'll find yourself walking through Greenwich where you can find plenty of things to do, such as the world-renowned Cutty Sark museum, Greenwich Market, and of course, Greenwich Park. Once you're done in Greenwich, hop over to charming Deptford. Villages Brewery make fresh, delicious, vegan-friendly beer in the heart of Deptford. Finally, we get to the epic SALT – Deptford where they perfectly pair a variety of award-winning beers from their core range, specials, and guest beers with delicious wood-fired pizza. Of course, if you don't fancy pizza then Deptford has a variety of food options, and good transport links mean this is a great place to finish your evening.
The Route:
We recommend starting at BBNO Morden Wharf so you can really soak up those views of the Thames and build up an appetite on the 2-mile walk towards Greenwich and Deptford. If you don't fancy walking, you can easily get a train from nearby stations Westcombe Park or Maze Hill to Deptford Station.
Brew By Numbers – Morden Wharf is a little isolated from public transport. You will have a number of options depending on which works best for you. Most people will probably opt to walk from North Greenwich underground, which is approximately a 15-minute walk to the brewery. From North Greenwich station, head south on Millenium Way until you get to Boord Street where you'll need to take a right. On Boord Street, go over the bridge over the A102/Blackwall Tunnel approach and you'll find yourself on Tunnel Avenue. Head south on Tunnel Avenue and take the first right down Morden Wharf Road. BBNO Morden Wharf can be found at the back of the industrial park, just follow the signs. Once you've enjoyed the views and consumed enough BBNO beer to sustain you for the 2-mile walk ahead, head out the back of the brewery and head south on the river path 'Olympian Way'. Continue to walk alongside the river, the path will be broken up a bit by some other small roads, just stay near the water and you'll find the path again, which will now be called Thames Path. Assuming you're making a beeline to Villages and not wanting to enjoy the sites in Greenwich, continue on this path until you hit the end where you'll find yourself on Horseferry Place. Continue South until you hit the A200 where you'll need to turn right and head West crossing over Deptford Creek. Continue on the A200 until you find the A2209/Deptford Chruch Street. Head South again on the A2209 until you go under a small rail bridge, Resolution Way where you'll subsequently find Villages Brewery, is immediately after the bridge. After Villages, you'll take a very short walk to SALT Deptford, to do this, continue down Resolution Way and onto Deptford High Street. Turn left down Deptford High Street and you'll soon find SALT Deptford, which is just off Carriage Way.